Das Tagebuch von Melvin Lasky ist erschienen
25.11.2022
Sehr geehrte Damen und Herren, liebe Freunde des Lasky Centers,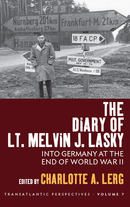 wir freuen uns das Erscheinen des Tagebuchs von Melvin Lasky verkünden zu können. Es ist über den Berghahnbooks Verlag als Volume 7 der Series Transatlantic Perspectives erschienen. Nachfolgend, auf Englisch, die Ankündigung auf der Verlagsseite:
In 1945 Melvin J. Lasky, serving in one of the first American divisions that entered Germany after the country's surrender, began documenting the everyday life of a defeated nation. Travelling widely across both Germany and post-war Europe, Lasky's diary provides a captivating eye-witness account colored by ongoing socio-political debates and his personal background studying Trotskyism. The Diary of Lt. Melvin J. Lasky reproduces the diary's vivid language as Lasky describes the ideological tensions between the East and West, as well as including critical essays on subjects ranging from Lasky's life as a transatlantic intellectual, the role of war historians, and the diary as a literary genre.
THE DIARY OF LT. MELVIN J. LASKY
Into Germany at the End of World War II
Edited by Charlotte A. Lerg